The Big Slice
New York Style Pizza
Bringing the best of New York to Perth
The Big Slice is a tasty and iconic New-York-style pizza that is perfect for any party, wedding, corporate event, market, or festival. Whether you need full catering for a small event or a large event, we can handle it for you. Contact us today to find out more.
We offer two hours of 'all you can eat' pizza served buffet-style or you can add some serving staff for a fully catered experience. Additionally, we offer a variety of sides and desserts to suit the needs of your event! If you have special dietary requirements or requests, contact us today for a quote.
About The Big Slice
The Big Slice is the newest offering by the same team that brought you The Fire Truck Pizzeria, which has been serving traditional Italian woodfired pizza to Perth for the last 5 years. Using our years of experience, we have created a new offering that we are confident you will love, bringing a taste of the New York experience to Western Australia.
At The Big Slice you know we pride ourselves on making sure everyone is well-fed throughout the occasion and making your event one you wont forget. Our traditional offering is While we are well known for our pizza by the slice, we have been hard at work on our new 'pizza by the metre' that are sure to please any crowd.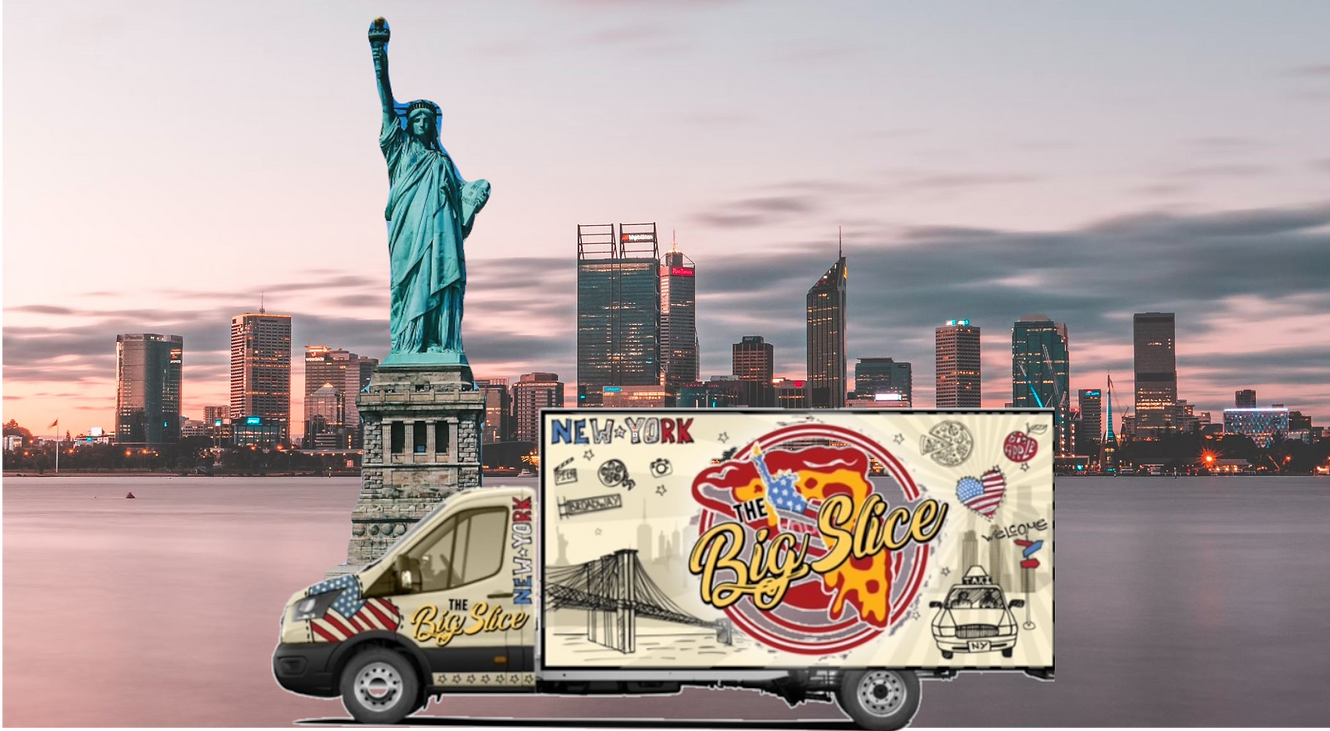 Frequently Asked Questions
Is there a minimum amount of people required?
There is no minimum amount of people to cater for, we do however have a minimum spend of $1000, which works out to be around 40 though we have catered events with less.

How long are you at an event?
For a typical event we will be there for a total of 3 hours which includes set up, service and pack down. Additional time can be arranged if required
Do you only service Perth?
Are team are happy to travel within 50kms of the CBD at no extra cost. Further than this we can and still do cater with an additional travel fee to deliver you the best pizza around.
Do you provide serving staff?
Our staff will place the pizza in a desired location upon your request. Should you wish for us to serve pizza also, we can do this at an additional cost with one of our friendly team members.
Can we try your product first?
Sure thing, come to one of our next public events to taste the magic for yourself. Contact us to find when and where we will be on the road with our Pizza next.
Can you operate under a fire ban?
Yes we can. Big Slice pizza all year round.
Our event is in a remote location without power, is this an issue?
Not at all, we have our own generator power supply to ensure no one goes hungry anywhere.
What's included in your "All you can eat" pizza package?
Basically we come to your function and do not stop cooking until everyone is full or we run out of time after 2 hours of going for it! You can select up to 5 pizza types from our menu that we keep making hot and fresh onsite until you are all satisfied.

Free Quote